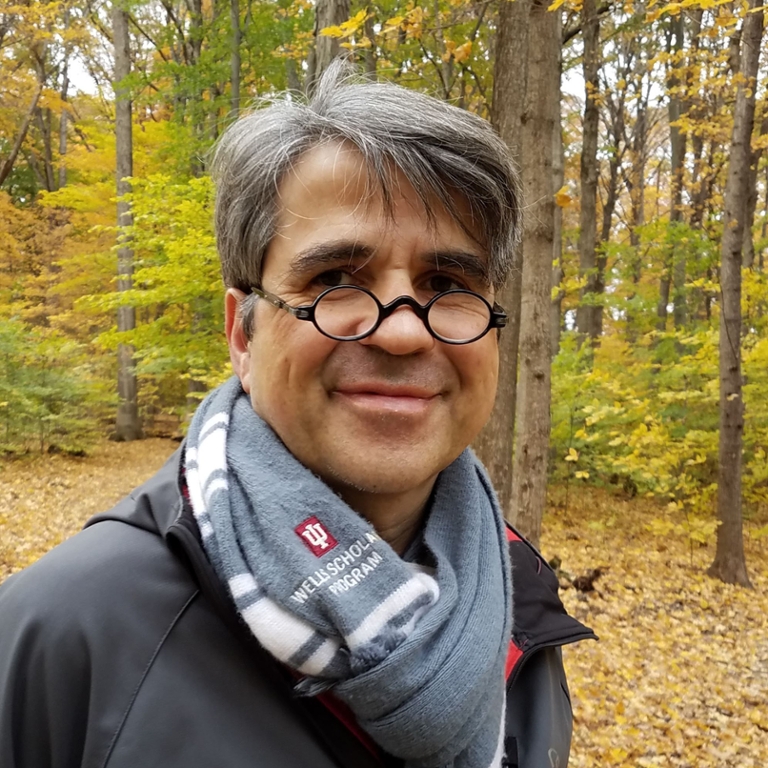 Christoph Irmscher
Director, Wells Scholars Program
Distinguished Professor, English
George F. Getz Jr. Professor, Wells Scholars Program
Class of 1942 Professor, Wells Scholars Program
cirmsche@indiana.edu

Wells Scholars Program, Harlos House
Office Hours
Education
Ph.D. habil., University of Bonn, 1997
Ph.D., University of Bonn, 1991
M.A., University of Bonn, 1988
About Christoph Irmscher
I teach, and write about, nineteenth- and twentieth-century American and Canadian literature and culture. Much of my time is now devoted to the Wells Scholars Program at Indiana University, which I have directed since 2013.  
 A long-standing interest of mine is ecocriticism, specifically early American nature writing—hence my book on The Poetics of Natural History, my edition of the writings of John James Audubon, and the ecocritical anthology, A Keener Perception, which I co-edited with the art historian Alan Braddock (College of William and Mary). Another abiding passion of mine is nineteenth-century American poetry. In Longfellow Redux, I have tried to understand a period in which poetry was meant to be read by a broad, transnational audience.
My favorite place at IU is the Lilly Library; studying manuscripts and rare books is essential to my research and teaching. In recent years, I have worked extensively with public institutions, the National Park Service, the Field Museum in Chicago, the Maine Historical Society, and Harvard University's Houghton Library. I was a consultant for, and appear in, three award-winning documentaries on John James Audubon, and I have directed two NEH Institutes on John James Audubon at the Lilly Library.
I am the author of two recent biographies, Louis Agassiz: Creator of American Science (Houghton Mifflin), which was Editor's Choice of The New York Times Book Review in February 2013, and Max Eastman: A Life (Yale), the first biography to make use of the rich Eastman archives at the Lilly Library.  Other recent books include a translation of the first German western, The Arkansas Regulators (with Charles Adams, Berghahn Books), and an annotated edition of Stephen Spender's first, previously unpublished volume, Poems Written Abroad (Indiana University Press).  Rutgers University Press just released the 20th anniversary edition of my Poetics of Natural History in paperback, with new photographs by Rosamond Purcell.  My biography-in-letters of the film actress Florence Deshon, co-written with film historian Cooper Graham, is forthcoming in 2020, also from Indiana University Press.
With Steven Brown I co-edit the Od Review, an online journal of photographic studies.  I also regularly write book reviews for the Wall Street Journal. With Christof Mauch (University of Munich, I co-edit the interdisciplinary book series "Transatlantic Perspectives" (Berghahn Books, NY).
I have published over 100 articles and reviews in a variety of venues.  My homepage at www.christophirmscher.com has links to my reviews.  My teaching philosophy is best encapsulated in "Teaching with Special Collections." Forging the Future of Special Collections, ed. Arnold Hirshon, Robert Jackson, and Melissa Hubbard,  Chicago: American Library Association Publishing, 2016. 131-156.
Other Publications
Online Publications:
Public, Poet Private Man: A Web Version of the Exhibition by Christoph Irmscher." 2008.
Selected Honors and Awards:
Election to the Austrian Academy of Sciences, 2014.
NEH Grant for Summer Institute on John James Audubon, 2009 and 2011
James P. Holland Award for Exemplary Teaching and Service to Students, College of Arts and Sciences, Indiana University, 2010.
Trustees Teaching Award, Indiana University, 2009
Rare Books and Manuscripts (RBMS) Award for best electronic exhibition, Association of College and Research Libraries, American Library Association, 2009
Choice Outstanding Academic Title 2007 (for Longfellow Redux)
Friends of the Longfellow House, 2006
NEH Faculty Fellowship, 2005-2006
Rodney G. Dennis Fellow in the Study of Manuscripts, Houghton Library, Harvard University, 2004
Research Fellowship, University of Maryland Baltimore County, 2003
NEH Summer Stipend, 2002
American Studies Network Prize 2000
CUE Award for Excellence in Undergraduate Teaching, Harvard University, 2000
Literature and Language Award of the Association of American Publishers, 1999