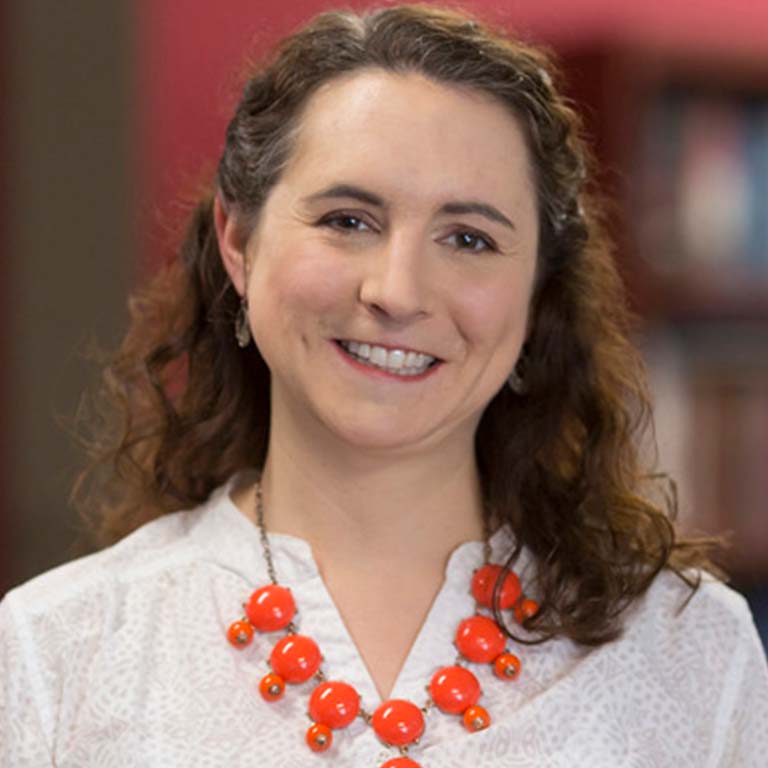 Shannon Gayk
Associate Professor, English
Director, Medieval Studies Institute
sgayk@indiana.edu

Ballantine Hall 427
Office Hours
Education
Ph.D., University of Notre Dame, 2005
M.A., University of Notre Dame, 2004
B.A., Duke University, 1998
About Shannon Gayk
I am a scholar of late-medieval religious writing and culture. I also teach courses in poetry and poetics, ecocriticism and the environmental humanities, and service-learning. My first book, Image, Text, and Religious Reform in Fifteenth Century England (Cambridge, 2010), focused on visual art, vernacular literature, and the rhetorics of religious reform in fifteenth-century England.
I am currently completing three books. The first, a book on "sacred instrumentality" in early England, considers the social, formal, and theological uses of the arma Christi in image and text from 8th century liturgical expressions to 18th century protestant hymns. The second book examines representations of ecological catastrophe and environmental apocalypticism in late medieval and early modern Europe. And finally, I am in the final stages of drafting a small book of personal essays on medieval holy places in the modern world, provisionally titled: "Saunter: Medieval Pilgrimages in Modern England."
Journal Articles and Other Publications
Form and Reform: Reading Across the Fifteenth Century, edited with Kathleen Tonry (The Ohio State University Press, 2011).
The Sacred Object, Special issue of The Journal of Medieval and Early Modern Studies 44:3 (2014), edited with Robyn Malo (Purdue University).
Theorizing Early English Genre, Special double issue of Exemplaria 27. 1-2 (2015), edited with Ingrid Nelson (Amherst College).
Selected Articles:
"Introduction: Genre and Form-of-Life" with Ingrid Nelson, Exemplaria 27.1-2 (2015): 3-17.
"Introduction: The Sacred Object" with Robyn Malo, The Journal of Medieval and Early Modern Studies 44:3 (2014): 457-67.
"Early Modern Afterlives of the Arma Christi." In The Arma Christi in Medieval and Early Modern Culture: Objects, Representation, and Devotional Practice, eds. Lisa H. Cooper and Andrea Denny-Brown, 273-307. Ashgate: 2013.
"Early English Orthodoxies: Reading the English Reformations" (Review Essay). The Journal of English and Germanic Philology (2013): 495-510.
"'To wondre upon this thyng': Chaucer's Prioress's Tale." Exemplaria 22.2 (2010).
"Lollard Texts, Literary Critics, and the Meaningfulness of Form." In Lollard Controversies, eds. Mishtooni Bose and J. Patrick Hornbeck (Turnhout: Brepols, forthcoming in 2011).
"'Ete this book': Literary Consumption and Poetic Invention in Capgrave's Life of St. Katherine," in Form and Reform (Columbus: Ohio State UP, forthcoming 2011).
"Teaching Chaucer's Legacy," Studies in Medieval and Renaissance Teaching 15:1 (2008): 91-104.
"'Among psalms to fynde a cleer sentence': John Lydgate, Eleanor Hull, and the Art of Vernacular Exegesis," New Medieval Literatures 10 (2008): 165-192.
"Images of Pity: The Regulatory Aesthetics of John Lydgate's Religious Poetry," Studies in the Age of Chaucer 28 (2006): 175-203.
"'As Plouзmen han preued': The Alliterative Work of a Set of Lollard Sermons" Yearbook of Langland Studies 20 (2006): 43-65.