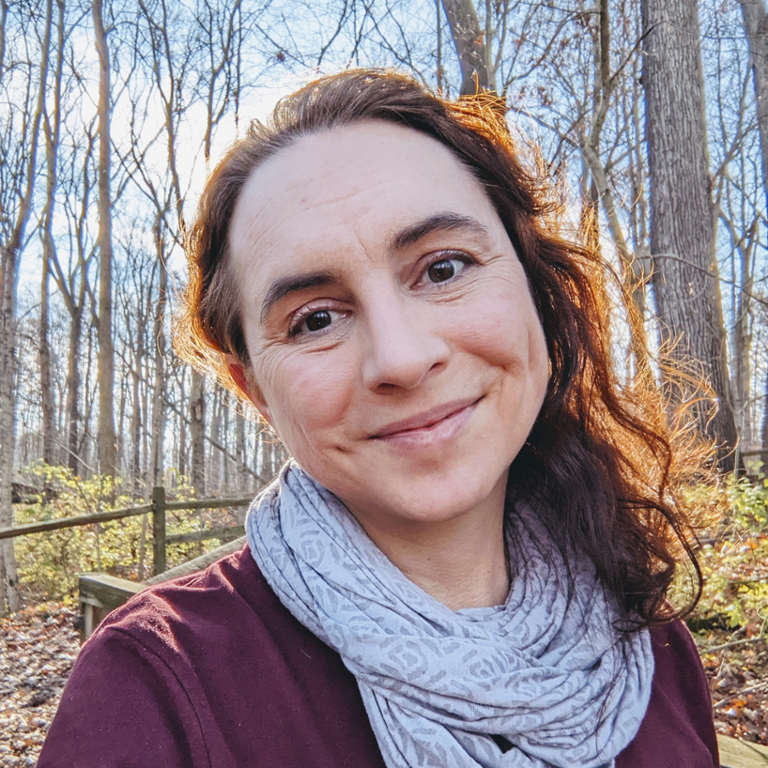 Shannon Gayk
Associate Professor, English
Director, Medieval Studies Institute
sgayk@indiana.edu

Ballantine Hall 427
Office Hours
Education
Ph.D., University of Notre Dame, 2005
M.A., University of Notre Dame, 2004
B.A., Duke University, 1998
About Shannon Gayk
I am a scholar of late-medieval religious writing and culture, but I teach widely, including courses in poetry and poetics, ecocriticism and the environmental humanities, visual and material culture, and service-learning.  Both my teaching and my research are undergirded by an abiding interest in how art, and our close attention to it, can transform us. I am also committed to experiential learning and occasionally lead courses on walking and pilgrimage (for the student blog from my most recent pilgrimage course, see https://iucamino2019.blogspot.com/).
My first book, Image, Text, and Religious Reform in Fifteenth Century England (Cambridge, 2010), focused on visual art, vernacular literature, and the rhetorics of religious reform in fifteenth-century England. I am currently completing three books. The first, Apocalyptic Ecologies: Medieval Religious Literature and the Environmental Imagination examines how medieval adaptations of biblical narratives laid the groundwork for modern environmental thinking, from idealizing primitivisms to environmental apocalypses.  The second book, Instruments of Christ offers a longue duree study of the social, formal, and theological uses of the arma Christi (objects used in the passion narrative) in image and text from 8th century liturgies to 17th century lyrics.
And finally, I am drafting a small book of personal essays on medieval holy places in the modern world and the surprising rise of pilgrimage in our own world that is provisionally titled: "Saunter: Medieval Pilgrimages in Modern Europe."
Journal Articles and Other Publications
Form and Reform: Reading Across the Fifteenth Century, edited with Kathleen Tonry (The Ohio State University Press, 2011).
The Sacred Object, Special issue of The Journal of Medieval and Early Modern Studies 44:3 (2014), edited with Robyn Malo (Purdue University).
Theorizing Early English Genre, Special double issue of Exemplaria 27. 1-2 (2015), edited with Ingrid Nelson (Amherst College).
Forms of Catastrophe, A special issue of The Journal of Medieval and Early Modern Studies (2022), edited with Evelyn Reynolds.
Selected Articles:
"Apocalyptic Ecologies: Eschatology, the Ethics of Care, and the Fifteen Signs of the Doom in Early England," Speculum 96.1 (January 2021): 1-37.
"The Present of Future Things: Medieval Media and the Signs of the End of the World."  In Reassessing Alabaster Sculpture in Medieval England, edited by Jessica Brantley, Elizabeth Teviotdale, and Stephen Perkinson, 229-260 (Kalamazoo, MI: Medieval Institute Publications, 2020).
"Idiot Psalms: Sound, Style, and the Performance of the Literary in the Towneley Shepherds' Plays." The Medieval Literary: Beyond Form, edited by Robert Meyer-Lee and Cathy Sanok, 119-140 (Boydell and Brewer, 2018).
"'By Provocative Means': Power, Protection, and Henry VIII's Prayer Roll." Exemplaria 27:4 (2017): 296-313.
"The Form of Christ's Passion: Preaching the Imitatio Passionis in Late Medieval England." Yearbook of Langland Studies 31 (2017): 231-257.
"Introduction: Genre and Form-of-Life" with Ingrid Nelson, Exemplaria 27.1-2 (2015): 3-17.
"Introduction: The Sacred Object" with Robyn Malo, The Journal of Medieval and Early Modern Studies 44:3 (2014): 457-67.
"Early Modern Afterlives of the Arma Christi." In The Arma Christi in Medieval and Early Modern Culture: Objects, Representation, and Devotional Practice, eds. Lisa H. Cooper and Andrea Denny-Brown, 273-307. Ashgate: 2013.
"Early English Orthodoxies: Reading the English Reformations" (Review Essay). The Journal of English and Germanic Philology (2013): 495-510.
"Lollard Texts, Literary Critics, and the Meaningfulness of Form." In Lollard Controversies, eds. Mishtooni Bose and J. Patrick Hornbeck (Turnhout: Brepols, forthcoming in 2011).
"'Ete this book': Literary Consumption and Poetic Invention in Capgrave's Life of St. Katherine," in Form and Reform (Columbus: Ohio State UP, forthcoming 2011).
"'To wondre upon this thyng': Chaucer's Prioress's Tale." Exemplaria 22.2 (2010).
"Teaching Chaucer's Legacy," Studies in Medieval and Renaissance Teaching 15:1 (2008): 91-104.
"'Among psalms to fynde a cleer sentence': John Lydgate, Eleanor Hull, and the Art of Vernacular Exegesis," New Medieval Literatures 10 (2008): 165-192.
"Images of Pity: The Regulatory Aesthetics of John Lydgate's Religious Poetry," Studies in the Age of Chaucer 28 (2006): 175-203.
"'As Plouзmen han preued': The Alliterative Work of a Set of Lollard Sermons" Yearbook of Langland Studies 20 (2006): 43-65.